Dad's WW2 Naval Service Record.
Charles Rayford Franklin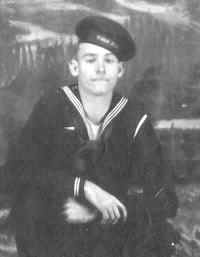 In Loving Memory, 1925 - 1997

Charles Rayford Franklin was born in Graceville, Florida in 1925. He joined the US Navy and began active service on December 11, 1943 as an Apprentice Seaman. He was assigned U.S.S. Wilhoite (DE-397) and was honorably discharged in 1946.
When he returned from the war he met Betty Jo Collier, They married and had 9 children.
Charlie Franklin was a gentleman, a philosopher, and a mentor to all who knew him. He was the ground all his family and friends stood on. Forever in our hearts and on our minds. This is for you Charlie. - Jamie Franklin Koplitz
August 27, 1943;
Accepted for enlistment, Highland County Court House, Sebring Fl.
Inducted into the U.S. Navy as Apprentice Seaman, USN-1
Voluntarily enlisted as A.S., Class V-6, U.S. Naval Reserve
September 3, 1943;
Transferred to Naval Training Station Bainbridge, Maryland
October 27, 1943;
Completed 8 weeks Recruit Training covering all assignments in Navy Training Course.
Instructions for Apprentice Seaman.
November 12, 1943;
Transferred to NavTraSta., Norfolk, Va. for instruction and assignment to D.E. Vessels.
December 11, 1943;
Assigned to the U.S.S. Wilhoite (DE-397)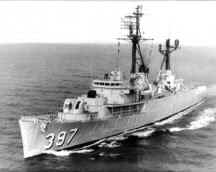 (Click the image for the complete operational history of the Wilhoite)
May 31, 1944;
Serving outside the continental United States this date.
Entitled to wear American European, African Mid-East Area Service Ribbons.
November 1, 1944;
Entitled to wear one engagement star on EAME service ribbon, for participation in escort, Anti-Submarine and Special Operations with UGS-40 on May 11, 1944.
Jan. 18, 1945;
Delivered to board this station FFT Harts Island, N.Y.
April 13, 1945;
Transferred to USS Wilhoite (DE-397) for duty or reassign.
June 25, 1945;
Entitled to wear the Presidential Unit Citation Ribbon with one bronze star permanently for outstanding performance in combat board the USS Wilhoite (DE-397) In a task group with the USS Bogue during the period 1 to 24 August 1944.
August 23, 1945;
Crossed the 180th. Meridian with permission of the Golden Dragon. Duly qualified as a Golden Dragon.
Sept. 1, 1945;
Entitled to wear the Asiatic Pacific Area Campaign Ribbon.
Feb. 10, 1946;
Completed Navy training course for Carpenters Mate Third Class this date with an average mark of 3.3. Certificate issued.



A poem Dad wrote -The Henhouse Blues