From A Fathers Life
By Robert Marino, 488th. Associate Member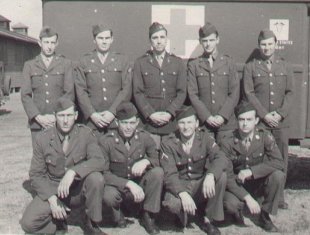 (This first picture is the original Waterboro Medics of the 488th taken during November of 1942 - Top row Jones, Jones, My Dad, McGrew, Marida. Bottom Row Robinson, Manning, Dillon and Graham.)
My Father was Captain Benjamin Marino, M.D. Who served with the 488th. Bomb Squadron from November 27, 1942 through the end of the European conflict. Dad had been drafted before the outbreak of the war and its onset he was frozen for its duration. My Father was shipped overseas on the USS West Point in February of 1943. I had been born during October 1941 and my sister was born March of 1943.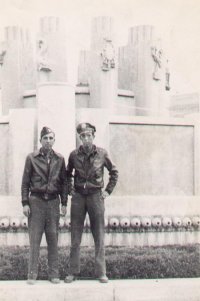 (My dad with Fred Harlan taken in Bari, Italy.)
While my father was overseas, our little family resided in Brooklyn, New York with my mothers parents. Also residing there were my mother's sisters and their children, since almost every male in the family was either serving in the Army or the Navy. His trip to North Africa embarked from San Francisco, through Wellington, NZ, Melbourne, Australia, Bombay, India, through the Indian Ocean and on to Egypt. The 488th. history mentions that at sea, my father had a beautiful tan which covered his green complexion. From March 1943 through June of 1943, he crossed through Egypt, Libya and Tunisia.
(This one was taken in Alexandria, Egypt on April 7, 1943. My father is on the extreme right - the other two are Lt. Parsons and the other individual is called "stud". I assume he was a "ladies man"?)
These pictures are from my father's very large collection. I assume he took many of these in flight because he would have to fly with the squadron for some hours each month to earn his flight pay, not like DR. Daneka in "Catch 22." Many appear to be taken from a Waist Gunner's position.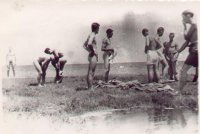 (The 488th personnel bathing in the Mediterranean during May of 1942 at Sfax. This picture originally was published in the 488th unit history book but in a censored form.)
The pictures during the crossing of Africa through Egypt, Libya and Tunisia show the extreme hardship during this period, of tents and slit trenches. In fact I remember my father talking about the flies- everywhere! Because of the scarcity of water clothes were washed with gasoline. When the clothes dried, there were bluish lines from the lead in the gasoline - a version of chromatography. But most importantly, In looking at the pictures of the flight crews, it is utterly amazing seeing the young crews who flew the B-25's and the conditions they endured.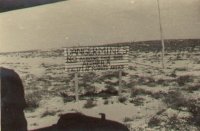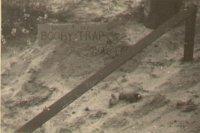 (These two were taken along roads in North Africa.)
From August 2, 1943 to October, my father was stationed in Sicily. It was heaven, He spoke fluent Sicilian and was able to visit the town where his father was born, Caltabellotta. Then the unit (MarinoP-40) moved onto Italy - Vesuvius, Corsica, and the Adriatic coast of Italy to wars end.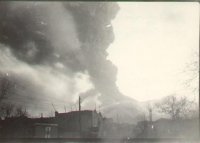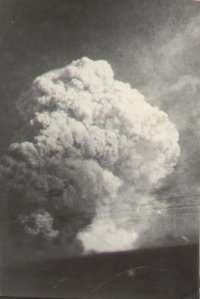 (Mt. Vesuvius erupting, taken by my dad from the "company street" and Napoli. You can notice the ambulance in the lower left corner.)
My first recollection of my father was during the middle of 1945 when everyone rushed into the family car and went down to the Brooklyn water front. I do not remember much about those days - but I will always remember his crowded troop ship arriving at the dock and the mass of people cheering. I have been to many football games and world cup soccer events, but nothing will ever compare to the joy and cheering I witnessed that day. I also remember the utter joy after President Truman dropped the A-Bombs and the war in the Pacific ended. My father who had been scheduled to go to the Pacific Theater was now home for good. I relate this part because I get very angry with anyone who criticized President Truman for dropping the bombs.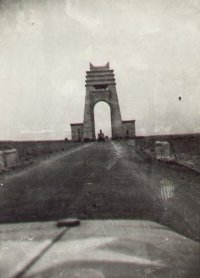 (The arch at Benghazi, Tunisia. Apparently this was shot from a truck convoy.)
Upon separation my father was employed by Squibb, the drug company but left shortly thereafter to enter into private practice. He was truly an old time Family Physician. He made house calls in the middle of the night. I remember he charged one dollar for an office visit and three dollars for a house visit. In those days health insurance was unheard od and if you couldn't pay, no bill collector would knock on your door representing my fathers practice. My brother, born in 1946, practices medicine in Virginia. My father taught us civic responsibilities and as a youngster in 1954 I remember watching "Victory at sea". Later when duty called both my brother and I served in the armed forces to answer our country's call. When I went through high school more time was spent in history classes on the Civil War and World War Two. More recently when my children were taught history, so little time was spent on these events.
On July 14, 1967, my father suffered a heart attack and passed away on July 16, 1967. This was two years before the Association was formed. Sadly about two weeks after he had passed away, we received a phone call from a disabled member of the 488th who my father had treated in Bombay. He needed my father's help to obtain a disability pension. I hope he obtained his disability pension.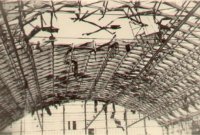 (This picture was taken at the Comiso Aerodrome. The precision bombing of this hangar shows great individual marksmanship.)
It was by accident that I found out about the association. As a daily commuter I have become an avid reader. About a year ago I came across Joseph Heller's Now and Then - From Coney Island to Here. The cover depicted a young Mr. Heller in his flight jacket containing the unit insignia of the 488th , the same insignia that adorned my fathers unit history book. Later I found out about the organization through the internet, and I joined as a new Associate Member. To Marshall La Rue's lament published in the Spring 1998 edition "no one will be around to tell it like it was and that will be a sad day", "Some of us in the next generation will not let your stories and history disappear."
Best Wishes - Bob Marino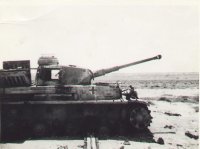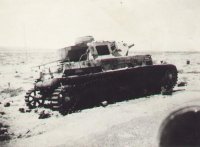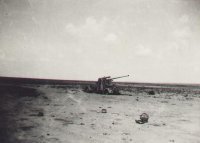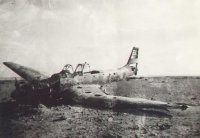 (The four pictures in this group are of two destroyed German tanks, An 88mm FLAK gun and a JU-87.)