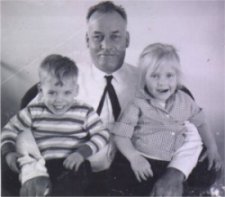 John Francis Koplitz
(1917-1978)
In loving Memory of J.F.K.
John Francis Koplitz was born in Morristown, New Jersey October 13, 1917. Son of Matilda Goldbach and Edward B. Koplitz.
A graduate of local schools, he began studying music at the age of 12. After two years with the clarinet he took up the saxophone and later changed to the bass violin and then the piano. He attended St. Vincent's School and Madison High School where he was quite a popular boy, known for his ability as a musical organizer and conductor. He could compose and arrange as well as lead an orchestra. His 1936 high school yearbook stated, "How, oh how, will football ever manage to scrape along next year without Johnny's touchdowns! He has that rare and much-sought-after ability of being able to conduct an orchestra. In a few years, we truly believe the world will be listening to Johnny and his orchestra over the air."
After graduating he continued his education at Newark Academy where he really made a name for himself playing football. John also attended The Roselle School of Music at Roselle, NJ. Johnny then formed his own orchestra and traveled the NE playing at dance halls and clubs.
In October 1940, He joined the RCAF and served as a Fighter Pilot in England and North Africa. During the war he flew for three countries. ( RCAF, RAF and AAF ).


Military Occupational Specialty
Bomber Pilot, Two Engine (1022)
Fighter Pilot, Single Engine (1055)
Flight Control Officer (2159)
Pilot:
Piloted various aircraft under varying weather conditions and such hazards as rain, fog, low ceilings and night flying. (not to mention the WAR) Amassed total of 975 hours flying time in AT6, B-25, BT-13, Hurricane, Spitfire, P-40, P-51, FW-190, and ME-109 type aircraft. Flew 14 combat missions in the European Theater of Operations as pilot of B-25 Aircraft. Performed duties as Pilot Instructor for 18 months. Amassed 250 Hours flying time as Pilot Instructor. Performed duties as Assistant Operations Officer of an Air Force Squadron. RELATED CIVILIAN OCCUPATION, Commercial Pilot, Flying Instructor, Personnel Manager.
Flight Control Officer:
Assigned duties at an Emergency Rescue Control Center. Gave assistance to all aircraft in distress. Gave instructions to pilots in event of emergencies. Directed air search for missing aircraft and airplane crashes. Assisted in location of lost aircraft by alerting communication stations.
RELATED CIVILIAN OCCUPATION, Airport Control Tower Operator, Air Traffic Manager.
Military Education:
Initial Training School, Quebec, Preflight Training.
RCAF Elementary Flying Training School, Elementary Pilot Training.
RCAF Service Flying School, Prince Edward Island, Advanced Pilot Training.
Additional Information:
Served for 2.5 years with RAF and RCAF as a Pilot Officer appointed by the King. Served overseas in the European Theater for 2 years. Flew 78 combat missions as Fighter Pilot of the RAF on patrol, interception and escort missions. Acted as test pilot on Spitfire Aircraft. Received a field commission during the desert campaign. Transferred to United States Air Force in Cairo Egypt, May 1943. After rotation to the states was reassigned as a Fighter Pilot Instructor, Sarasota Army Air Base, Sarasota Fl. Awarded British Service Medal. Member American Federation Musicians. Holds Commercial Pilot License (0-4500 Horsepower) from CAA.
Battles and Campaigns:
Naples Foggia GO 33 PAR 6 - 1 May 1945, Egypt Libya GO 33 PAR 1 - 1 May 1945, Tunisian GO 33 PAR 4 - 1 May 1945, Sicilian GO 33 PAR 3 - May 1945.

(Note the uniform, AAF. and RCAF)
AAF Decorations and Citations:
Air Medal GO 39 HQ 12 AF - 23 Oct. 1943 and two Oak Leaf Clusters. EAME Theater Ribbon, American Theater Ribbon, American Defense Ribbon, and the Bronze Service Star, World War 2 Victory Medal.
Images of AAF Service Records (Warning; large files 100 KB+)
Army of the United States, Separation Qualification Record, Page 1
Army of the United States, Separation Qualification Record, Page 2
Army of the United States, Military Record and Report of Separation, Certificate of Service
Vmail from the middle east
12 March 1943 While with the RCAF 417 Squadron.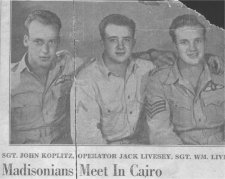 Article From the Madison Eagle
While in the RCAF he organized a five man all soldier band in North Africa, and each night they serenaded the crowded pilot's mess with their music. Two other fighter pilots, a fitter and a motor mechanic made up the musical organization, with Johnny not only wielding the the baton, but singing, too. He also wrote several songs, among them "Tune Up Your Heart Strings" "I Thought," and "They Took You To A Star"
William F. Livesey - John's good friend.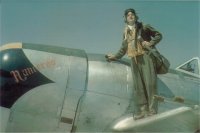 Fighter Pilot - (1917-1946)