John F. Koplitz, Pilot, RCAF, RAF and AAF
William Fray Livesey, Fighter Pilot
History of the 57th. Bomb Wing
Nose Art From the 57th. Bomb Wing.
History of the 340th. Bombardment Group
May 13 1944, Alensa Airfield, Corsica
S/Sgt. Jack Washleski, Tail Gunner
S/Sgt. Brendon J. Murphy, ROM Gunner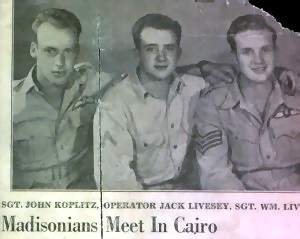 Sergeant Pilots Koplitz and Livesey Meet Radio Operator Jack Livesey By Accident
Sergeant Pilots John Koplitz and William Livesey, who are with the Royal Canadian Air Forces, attached to the R.A.F., received one of the surprises which seem even more surprising in war time when they were caught up with two weeks ago in Egypt by Sgt. Livesey's brother, Jack, who is a radio operator on special army technicians duty.
The two Madison Flight Sergeants, who have been stationed abroad for the past twelve months, have recently transferred to Egypt, and it was there that Technician Livesey, who has been in the U.S. Army with the Signal Corps since 1940, met his brother and friend. He had also been transferred recently and when he arrived at his destination in Egypt, took a chance and called R.A.F. headquarters there asking for Flight Sergeant Livesey.
The three Madisonians celebrated a happy reunion and had the above picture taken to send home to their families.
Sergeant Pilot Koplitz, who formerly conducted his own dance orchestra in this vicinity, is a graduate of Madison high school where he was active in all sports, especially football and baseball. He and William Livesey, also a Madison high school graduate, enlisted together in the Canadian Royal Air Force in 1940, and after receiving their preliminary training in Canada, received the rating of Sergeant Pilots. A little over a year ago, both young men visited in Madison at which time Sgt. Livesey was married to Miss Helen Terepka of North Arlington with Sgt. Koplitz serving as best man at the wedding. A short time later they were both sent abroad for active service in England.
Sgt. Liveseys wife, who was an airplane hostess, has been living with her parents in North Arlington and recently signed with American Airways. She left for Texas yesterday morning as an air hostess on one of the big transport planes.
Radio Operator Jack Livesey has seen service with the Signal Corps here and was sent abroad with a merchant marine vessel which has since seen service as a U.S. Army Raider, now manned with a number of British sailors. He is 21 years old and also was graduated from Madison high school. The meeting with his brother two weeks ago in the foreign port was one of great moment, since the two brothers had not seen each other in 18 months.
The Livesey boys have another brother in the service, Sgt. Tommy Livesey, who is also somewhere in England serving with the U.S. Army Signal Corps.
The letter telling of the three Madisonians reunion in Egypt was received in Madison on Monday by Mrs. Sarah Livesey of Kings Road, mother of the two boys.
---