John F. Koplitz, Pilot, RCAF, RAF and AAF
Quentin C. Kaiser - 489th. Bombardment Squadron
Images from the 488th. Bombardment Group.
William Fray Livesey, Fighter Pilot
History of the 57th. Bomb Wing
Nose Art From the 57th. Bomb Wing
May 13 1944, Alensa Airfield, Corsica
S/Sgt. Jack Washleski, Tail Gunner
S/Sgt. Brendon J. Murphy, ROM Gunner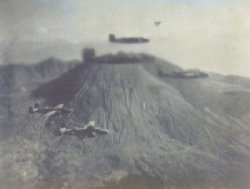 (B-25's forming up over Mt. Vesuvius)
Activated on 20 August 1942. The 340th. Bombardment Group trained with B-25's for duty overseas. They arrived in the Mediterranean theater in March 1943. Assigned first to the Ninth Air Force and later (in August 1943) to the Twelfth. Served in combat from April 1943 to April 1945. Engaged chiefly in support and introductory missions, but sometimes bombed strategic objectives. Targets included airfields, railroads, bridges, road junctions, supply depots, gun emplacements, troop concentrations, marshaling yards and factories in Tunisia, Sicily, Italy, France, Austria, Bulgaria, Albania, Yugoslavia, and Greece. Also dropped propaganda leaflets behind enemy lines.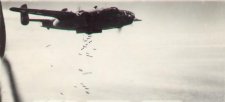 Participated in the reduction of Pantelleria and Lampedusa in June 1943, the bombing of German Evacuation beaches near Messina in July, the establishment of the Salerno beach head in September, the drive for Rome during Jan.- Jun. 1944, the invasion of southern France in Aug. and attacks on the Brenner Pass and other German lines of communication in Northern Italy from Sept. 1944 to Apr. 1945. Received a DUC for the period Apr. - Aug. 1943 when, although handicapped by difficult living conditions and unfavorable weather, the group supported British Eighth Army in Tunisia and Allied forces in Sicily.
Received a second DUC for the destruction of a cruiser in the heavily defended harbor of La Spezia on 23 Sept. 1944 before the ship could be used by the enemy to block the harbors entrance. Returned to the U.S., Jul. - Aug. 1945. Inactivated on 19 Aug. 1949.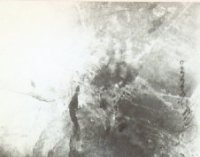 Squadrons
486th: 1942-1945; 1947-1949
487th: 1942-1945; 1947-1949
488th: 1942-1945; 1947-1949
489th: 1942-1945; 1947-1949
Stations
Columbia AAB, SC, 20 Aug. 1942
Walterboro, SC, 30 Nov. 1942 - 30 Jan.1943
El Kabrit, Egypt, March 1943
Medenine, Tunisia, March 1943
Sfax, Tunisia, Apr. 1943
Hergla, Tunisia, 2 June 1943
Comiso, Sicily, 2 August 1943
Catania, Sicily, 27 August 1943
San Pancrazio, Italy, 15 October 1943
Foggia, Italy, 19 November 1943
Pompeii, Italy, 2 Jan. 1944
Paestum, Italy, 23 March 1944
Corsica, 14 April 1944
Rimini, Italy, Apr. - 27 July 1945
Seymour Johnson Field, NC, 9 Aug. 1945
Columbia AAB, SC, 2 Oct. - 7 Nov. 1945
Tulsa Mun Airport. Okla, 31 Oct. 1947 - 19 Aug. 1949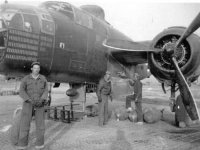 Commanders
Lt. Col. Adolph E. Tokaz, 3 Sept. 1942
Col. William C. Mills, 21 Sept. 1942
Lt. Col. Adolph E. Tokaz, 7 May 1943
Col. Charles D. Jones, 8 Jan. 1944
Col. Willis F. Chapman, 16 Mar. 1944 - 7 Nov. 1945
Campaigns
Air Combat, EAME Theater: Tunisia; Sicily; Naples-Foggia; Anzio; Rome-Arno; Southern France; North Apennines; Central Europe; Po Valley.
Decorations
Distinguished Unit Citations: North Africa and Sicily, Apr. 17 - Aug. 1943, Italy, 23 Sept. 1944.
Insignia
Shield: Per fess nubuly, azure and argent, in chief two cloud formations proper, one issuing from the dexter and one issuing from the sinister, in the base three stars of five points, of the first, two and one, all surmounted in fess, with an ear of wheat proper and a lightning flash, gules in saltire, an edge around the shield sable.
Motto
ANYWHERE - ANYTIME (approved 12 Sept. 1955)
Aerial photographs;
Pantelleria (321st Bomb Group)