John F. Koplitz, Pilot, RCAF, RAF and AAF
William Fray Livesey, Fighter Pilot
History of the 340th. Bombardment Group
Nose Art From the 57th. Bomb Wing
May 13 1944, Alensa Airfield, Corsica
S/Sgt. Jack Washleski, Tail Gunner
S/Sgt. Brendon J. Murphy, ROM Gunner
RCAF 417
The "City of Windsor" Combat Support Squadron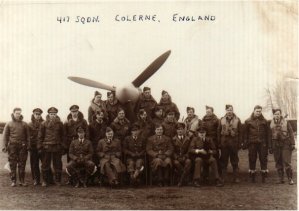 Top Row: M. Bakkan, G. Leguerrier, D. Hartney (411 sqdn.)
Middle Row: T. Percival, T. Williams, E. Mitchell, D. Bruce, K. Pate, R. Brooks, A. Pourbaiv, H. Conn, H. Sutton, D Millar, G. Cushing (411 sqdn), J. Maurice, K. Clarke, L. Grant
Bottom Row: F/LT Foster, Air Vice Marshall Walker, S/LD Malfroy, G/C Harvey, F/LT Penlanb, S/LD Wooten
Service Record:

The RCAF's 16th - seventh Fighter - Squadron formed overseas, The unit was ordered to the Middle East in the spring of '42. Equipped with Hurricane and later Spitfire aircraft, it spent five months in the defence of the Suez Canal and the Nile Delta. In April 1943 it became the only Canadian Squadron in the Desert Air Force and was to provide air defence and close support to the British Eighth Army through the closing stages of the Tunisian campaign, and throughout the Sicilian and Italian campaigns. The squadron was disbanded at Treviso, Italy on 30 June 1945.
Formed at Charmy Down, England, Nov 1941, as part of Fighter Command flying Spit MkIIs and then Spit MkVs
Transferred to Port Tewfik, Gulf of Suez, June 1942 as part of Desert Air Force. No aircraft until September when they got Hurricane IICs then Spit VBs and Spit VCs in October.
Transfered to Triploi Libya, in February 1943 with 244 Wing.
Transfered to Ben Gardane, Tunisia, in March, 1943. Then to Mellaha and Goulvine.
Transferred to Malta for Operation Husky, the invasion of Sicily, in mid 1943.
Moved to Cassabile, south of Syracuse, Sicily in July, 1943. Then to Lentini West and Gerbini. Re-equipped with Spit MkVIIIs
Moved to Canne, Italy, November 1943. Air cover for Ortona.
Detached from Desert Air Force January 1944 and moved to Naples under US XIII Air Support Command to cover the bridgehead at Anzio. Picked up some Spit IXs.
Transferred to Venafro in April 1944 ( near Monte Cassino)
Trained to use 500lb bombs from Spit VIIIs in June 1944 and begin ops as fighter-bombers. This shift to ground attack contributed to a six-fold increase in the monthly casualty rate.
Moved to Littorio, Fabrica and Perugia (north of Rome) in July-August of 1944.
Moved to Loreto, south of Ancona, end-August 1944.
A map (80k) of 417's movements and bases in the Med.
---
Battle Honours:
Defence of Britain 1942. Egypt and Libya 1942-1943. North Africa 1943. Sicily 1943. Italy 1943-1945: Salerno, Anzio and Nettuno, Gustav Line, Gothic Line.
---
Aircraft:

Unit code for RCAF 417 Squadron from 1940-1946 was AN.
England -

Spitfire MkIIA and IIB (Nov 41 -Feb 42)
Spitfire MkVB (Feb - Mar 42)

Middle East -

Hurricane MkIIB (Sep - Oct 42)
Hurricane MkIIC (Sep 42- Jan 43)
Spitfire MkVB and VC (Oct 42 - Sep 43)
Spitfire MkVIII (Aug 43 -Apr 45)
Spitfire MkIXB (Apr - Jun 45)
---
People:
P/O John F. Koplitz, Joined the RCAF in 1940, Also flew with the AAF.
Bert Houle
Squadron Leader Albert U. Houle, DFC and bar. Spent much of his operational career in the Middle East, Malta, Sicily, and Italy ending on Spitfires as CO of 417 RCAF squadron. Remained in the RCAF until retirement with the rank of Group Captain. 7 kills while on 417
JF Edwards DFM, DFC and bar
15 kills. He is listed in C Shores 'Air Aces' as one of the top scoring Commonwealth pilots in the Mediterranean area, 1940-1945. He spent time on RAF squadrons 94, 260 and 92 as well as some time with 417.
---
Images: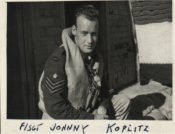 P/O Johnny Koplitz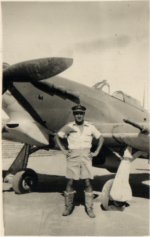 417 Squadron Pilot Bob Hazel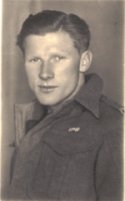 Rushton, Cpl. John DEAN, Air Frame Mechanic
Left to right: Flight LieutenantTom Percival, "Stocky" Edwards and P/O John Riley
Pilots on weekend pass in Tel Aviv. P/O John Riley 2nd. from right.
417 Pilots relaxing in the desert.
P/O John F. Koplitz - Note the uniform, RAF and AAF
---
417 Lament:

[Written upon 417 Squadron disbandment in 1945, sung to the tune of "Lily Marlene"] We are a few Canadians, here in Italy, Working with the RAF boys, to win victory; Going around with a vacant stare, We have no clues, but do we care? We're the riff-raff of the Air Force, And we're going home you see. The poor old Royal Air Force are getting slightly cheesed, Because we look so scruffy, and never try to please; Buttons never polished, minus caps, We don't say "Sir" to those dear chaps. We're the riff-raff of the Air Force. But you ain't seen nothing yet. We haven't much equipment, very little kit, I guess you think we flogged it, that's not the 'arf of it; We lost it all in battle, long ago- From Sicily, across the Po. We're the Screwballs of the Air Force. But you ain't seen nothing yet. What a scruffy outfit don't you all agree? Just how we beat Jerry, it's very hard to see. We even like,to have our tea, at ten o'clock, and half past three. They call us NAAFI cowboys, We're nuts it's plain to see. And when we left Treviso to start our journey home, They piled us all on cattle cars, what a way to roam, That's what we get when we volunteer To leave our homes for over here, We wish that we were Zombies, And back in Canada We always are in trouble with the RAF, Because we don't like discipline; we don't go for that stuff. So we go on our merry way, And drive them nuts, from day to day. We're the Screwballs of the Air Force, And we're attached to DAF.Thanks, you lucky people who are gathered here, We'll act on your suggestion, and let you buy the beer. Now that you have seen all of us, You may not like our ugly puss, Yet you must all agree, folks, That we're ridiculous. --- Supporting Liberty and Justice
---
A special Thank You to P/O John Riley for the 417 Squadron images.
---
To submit a 417 photo click here, Please include description.
---
Suggested reading:
'The Crucible of War', RCAF official history
'RCAF Squadrons and Aircraft', S Kostenuk and J Griffin, National Museums of Canada
'Air Aces', Christopher Shores
'Fighter Aces', Christopher Shores
'All the Fine Young Eagles', David Bashow
The RCAF Over Seas, The First Four Years.